Tuesday, January 31, 2006
The Frozen World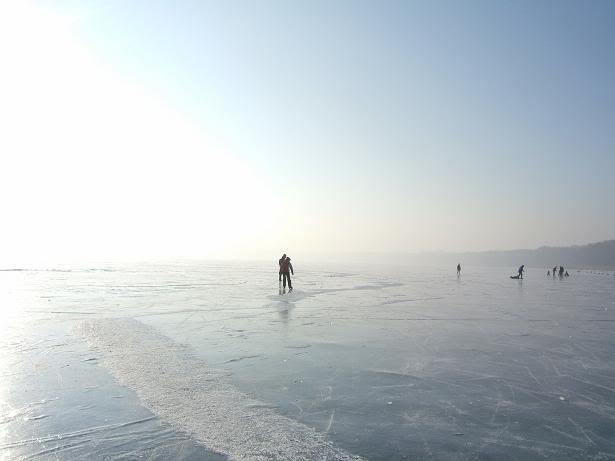 This weekend all the lakes surrounding Berlin were frozen over. My language tandem partner took me out to Müggelsee, to the East of Berlin, on Saturday morning. The sunlight was so bright and hazy that the lake seemed to go on forever. The ice was about 40 thick, but you could hear it shifting the whole time. The next day I went back with more friends and found the police warning people not to tred on the ice as it was a "lebensgefahr". We tredded on it regardless and didn't drown. Sadly, the moment has gone and the temperatures are slowly climbing above freezing.
Saturday, January 28, 2006
Awake Is The New Sleep
Once upon a time there were
Three Bens
. The most famous was
Ben Folds
of
Ben Folds Five
. Then came
Ben Kweller
. And The Ben that people struggle to remember, perhaps due to his less memorable name, is
Ben Lee
, an Australian singer-songwriter. Luckily, people haven't
really
forgotten about him, because he's too good to be missed. A Ben Lee gig is one of those gigs where you come out wanting to cuddle just everybody, the warmth of the music being just so. I caught Ben at Magnet in Berlin on 26th January and he played a mixture of old songs, covers, songs off his lovely new album,
Awake Is The New Sleep
and a song inspired by
Karen O
of
Yeah Yeah Yeahs
, which was so
true
that it made my spine tingle thinking of the intensity of their live show. You can download the song following
this link
.
Ben Lee is currently on an extensive European tour. Take a chance and go and see him. And you'll be smiling all the way until Spring!
Sunday, January 22, 2006
Hard To Love...
Berlin isn't nearly as spoilt as London for gigs, so I quite often find myself going to gigs that would never have even appeared as a blip on my gig radar in London. This could be dangerous, but so far the only negative thing is utterly dire German support bands (
Sugarcaine
and
Neuser
- ihr seid schuld).
Black Wire
are a Leeds band, as they announced on entering the Knaack club stage. That, the bands they have toured with, and most importantly, the fact they were fit was all I knew beforehand. So I was pleasently surprised to see that a) they have no drummer, b) they play a electro-punky style of rockabilly music (this is a good thing, honest), and c) two of them really
are
very fit.
Their sparse and, sometimes, violent sound reminded me a bit of
Selfish Cunt
, but they came across as very warm people, whereas Martin Tomlinson is a thoroughly dangerous animal (although I have seen him crying and singing the words to
Maps
at the side of the stage for
Yeah Yeah Yeahs
). Lead singer, Dan Wilson prowled the stage in skinny jeans, winkle pickers and braces like a man possessed, not afraid to 'shake it', and gave a gusto-filled performance. It was dark but not depressing, pleasing in a similar way to
Sons and Daughters
, but not
quite
as satisfying, of course.
Check out their
MySpace profile
to hear three of their songs. They have an eponymous album available all over Europe now.
Tuesday, January 17, 2006
...And The Heavens Opened.
Last Thursday I was in two minds as to whether to go to a rescheduled "Eastern European Employment Market" seminar for which I hadn't done the reading. It would be between 6-8pm. I walked a route that would take me home or to the seminar. It was a strange sunset, a strange twilight and a wonderful walk. As I was crossing Babelplatz I looked up in the flaming orange sky and saw the most extraordinary sight. The sky was full of tiny black birds. There must have been thousands and thousands of them all flying in one direction. It would have made the most perfect photo. I looked around to see if anyone else was watching, but noone else was. I can't quite express how beautiful it was. I wondered where they were all going - it reminded me of some of the imagery in
The Amber Spyglass
by Philip Pullman, something to do with fate and heaven and orange, burning skies. I decided after that not to go to the class and hurried home to get my camera. For the rest of the evening I walked around central Berlin taking photographs on long exposures. Never in my life have I felt so in love with a place and a moment as then.
Photos that I took can be viewed
here
Monday, January 16, 2006
Get Ready To Show Your Bones!
The moment many thought would never come has almost...come. Yes. New York's finest band,
Yeah Yeah Yeahs
, are gearing up to release their second full length album, titled
Show Your Bones
on 27th March in UK, 28th March in North America, and I guess 24th March in Germany (Friday is new-release day, as a I am reminded every time I go to
Saturn
). There have been some silly rumours flying round the internet. NME.com printed a
story
late last year explaining that the album would be based around the concept of Karen's new cat called Coco. Luckily a
nice letter
from the band clarified that NME had got their pants in a twist. The band are playing 6 intimate dates in NY, Chicago and San Fransisco in February, before embarking on a full US tour in March and April before coming over to Europe (yay!) in May.
The final tracklist for the album is still subject to musch speculation, but the expectation is that the majority of the brilliant songs played on the latter of the
Fever To Tell
tours will not make the final cut of the album.
Cheated Hearts
and
Honey Bear
, however, will hopefully be on it.
Modern Things
won't. So I won't feel guilty about rapidsharing a .wma of it for you to download.
http://rapidshare.de/files/11191974/Yeah_Yeah_Yeahs_-_Modern_Things.wma.html
Sunday, January 15, 2006
Love Punch
The Chalets
are clever. Firstly, their name - The Chalets - you can refer to the singers as "those Chalet girls" and the boys as "those Chalet boys", and endless interview questions and jokes about those mountainside wooden huts, or Butlins. Secondly, they make catchy, sixties grrrl group inspired, spikey pop music that sounds like Le Tigre meets the Shangri-Las and then went for drinks with Yeah Yeah Yeahs. Crass comparisons aside, the Chalets are one of the greatest live bands you'll see. They come across as really warm musicians who really love what they are doing, where they are and just giving people a great show. PeePee and Polly, the two vampy 50s airstewardess singers, dress impeccably in sparkly high heels and bouffant hair, combining singing, keyboard playing and sultry dance routines and throw in a bit of cheeky stand-up comedy.
They have an album out on
Sentanta
called
Check In
which has beautiful artwork in keeping with the 50s Mile High theme. The album features the excellent singles Love Punch, Feel the Machine, No Style and Theme From The Chalets. They are currently touring Germany with Art Brut, and I caught up with them yesterday at Magnet in Berlin and interviewed them for the March issue of
Wears The Trousers
. Do check out the current issue which is so beautifully crafted that it makes me weep - downloadable from the
website
as a pdf.
A live version of non-album track, Gay Holiday is available to download here:
http://rapidshare.de/files/11125656/gayholiday.mp3.html
(mp3 was found on
Torture Garden Blog
. Thanks!
Friday, January 13, 2006
A Man's Home Is His Palast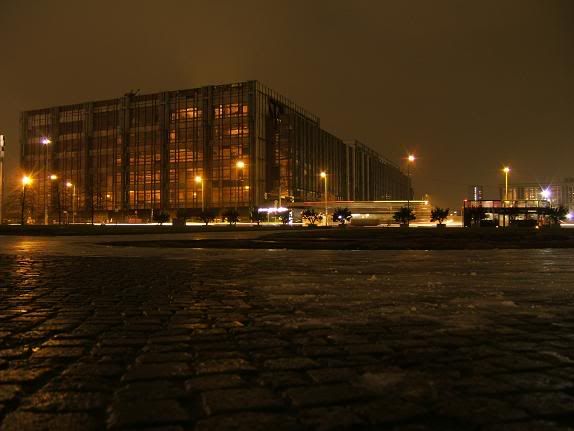 Germany's history and identity is difficult. Some want to draw a line under everything, others want to focus on the golden years and derive some kind of identity out of that. Some would argue that Germany as we know it has only existed since 1990. Re-generating Berlin is not therefore simply a case of getting funding and getting a plan passed by an indifferent town-planning pannel. Every decision taken is a decision on 'how to deal with a problematic history'. But the decision to demolish
Palast der Republik
has cut right to the very depths of the East/West divide in Berlin.
Palast der Republik
is in the former Eastern sector and was the East German parliament building from 1976 until the GDR's demise in 1989. But it wasn't just a parliament building - it was the people's palace, based on the notion that a republic is of the people - and so was a social and cultural centre for the GDR's citizens, where state run cultural activities, theatres and restaurants were situated. Regardless of the former GDR's citizens' feelings towards the oppressive government and secret police, fond memories are held by many East Germans of visits to the capital city to see the iconic symbols of the system to which their work and lives were officially concerned. It doesn't fit the idealised image of how a European Tourist City should look - streets after streets of
ye olde
granduer and backstreets of
ye olde
twee and cobbles. That's part of Berlin's history, but not the history as known by the people who have lived in the capital for the last 60 years.
The planned replacement is a reconstruction of
Berliner Stadtschloss
, an old castle which stood in the same position until it was destroyed in World War II. The Castle would be a shopping mall - presumably of the expensive variety, in keeping with the already-gentrified area surrounding it, designed to keep the tourists spending and the German economy afloat (Berlin was almost declared bankrupt two years ago). The trouble with such a plan is that it excludes and alienates the residents of East Berlin/Germany, who have felt excluded and alienated enough already by the institutional and cultural changes (dissertation topic ahoy!) and this blatant brushing-under of half the city's history has really got the goats of a lot of people.
Sadly, demolition has already begun and the
Palast
is no longer open for exhibitions and the like. At least the TV tower will always be a big fallic memorial to the days and dreams of state-socialism, even if the execution thereof was much grayer and grimmer than the dream.
Monday, January 09, 2006
Major Wolf Attack
It has recently been announced that
Patrick Wolf
, purveyor of unique, romantic, lush folk music, has signed a multi-album deal with major label subsidiary,
Loog Records
. This comes as great news. Though 2005 has been the most succesful year yet for Patrick Wolf with hsi second album,
Wind In The Wires
, bringing his music to more people than ever before and making a fair few year end top 10s! His previous labels,
Tomlab
and
Faith and Industry
, could simply not provide enough backing to make Patrick Wolf the superstar he deserves to be. While it is a true privilage to have seen him many small venues, the boy deserves good equipment and jacuzzis and all the riches major labels can bring to aide the spreading of his word.
Here is a live acoustic version of the title track from
Wind In The Wires
for your downloading pleasure:
http://rapidshare.de/files/10737307/02_-_Wind_in_the_Wires.mp3.html