Saturday, October 30, 2004
These Wolves are right behind you..
Abstractboy has been holding off blogging about one of his favourite musicians ever. I wanted to wait until I had seen
Patrick Wolf
live before I wrote about him, I don't feel qualified otherwise. Last night I caught Patrick at only his second London gig in a year at the
Infinity Club
in Mayfair.
I was introduced to Patrick Wolf by my
lovely boyfriend
in April. He gave me a CDR of Patrick's debut album,
Lyncantrhopy
just before I went back to Edinburgh for Easter. I missed my train and spent a day waiting in my room for the nightbus that evening. I put the CD on and was amazed by the album, genuinely astounded. Patrick mixed cocktails that I never knew possible, used instruments that wouldn't usually work together, compositions that worked miracles. He plays pretty much everything on the album himself - from viola, to vintage analog synths, to beautifuly plucked acoustic guitars, to even laptop blips and bleeps. The music itself is absolute genius - there is simply no other way to describe it. There is nothing I've ever heard quite like it and no way of even trying to imitate it.
Part of Patrick Wolf's uniqueness is due to his painfully honest and reflective lyrics and very distinct, beautiful voice. You get the feeling that Patrick has seen the darkest of human (and possibly lupine!) emotions. His lyrics are laced with hints and tales of his past, his times spent in squats in London and Paris. He is only 21 and yet this album has a maturity of someone who is truely travelled, yet the youth and freshness of however old he was when he wrote the songs. It has been the only album in recent years to make me cry, partially at the awe-inspiring beauty of it, and partially by thinking of how much he has been through and how much he has seen. It will always remind me of my
boyfriend
in some way too, but that is incidental, almost.
Seeing him live was a wonderful experience. His voice is so strong, but it isn't imposing. He ain't no Mariah Carey or nuffin. It is clean and pure and so filled with the emotion of every song. He means every word he sings, he
knows
everything that has happened to him. He is articulate, yet poetic, charming and somewhat mischievous looking. He speaks between each song and graciously accepts the rapturous response. To see him play viola and sing at the same time is quite amazing, but to see the ability with which he plays all of the instruments is just inexplicable. He is, without doubt, the most talented musician I have ever had the pleasure of seeing.
He has a new album due to come out in February 2005 by the name of
The Wind in the Wires
. He played a lot of material off it at the gig, explaining ideas behind the songs and expressing excitement about the writing process. The album will certainly not disappoint and will hopefully see him attracting a bigger fanbase. But until then I will be playing
Lycanthropy
to anyone who will listen. If you don't own it already, I urge you to buy it - trust Abstractboy on this - it will change the way you love music.
Monday, October 25, 2004
Vek off!
Hold up! Hold up! Forget
Bands
to believe in...there is a man, a boy, a genius who is making very very exciting sounds right now. He goes by the name of
Tom Vek
and is quite something really. Tom is a very young gentleman. He was born in 1981, and though is quite a bit older than
S Club 8
, but is as fresh-faced and young looking as even Calvin. Tom is London born and bred, which is clear from his sound, his voice, but it isn't London-y in an overbearing way either, which is nice.
Like all wot is good right now, Vek tends to avoid pigeonholes, single genres, any sesne of consistency other than a consistently good show and sound. Abstractboy and (check out her blog!)
Artstarr
were lucky to catch him at the opening of
another
New Marquee Club (get over the '70s!) while waiting for the
New Rhodes
to impress us in a more conventional fashion. The excitement caused by Tom Veks' 30 minute set made us almost even forget that there was another reason for living, let alone another band to be seen. As he was setting up the stage and plugging in his guitar prior to his performance, he looked quiet, wearing thick glasses and a leather jacket. But when he bounded on stage, eyes ablaze and jacketless, it was clear he was a boy who meant business.
His performance is asssured, but not arrogant. He is clearly aware of his ability (and is reported to have asked for an advance of £250,000 for his debut album) but it doesn't seem to affect the quality of the goods in the same way as it does other knowingly talented artists. He has released one single so far, a 7" called "If I had changed my mind" and has a new single out on 1st November called "If you want" and
XFM
have been playing it lots. His singer-songwriter soulfulness, garage riffs and electronic beats sound like a mish-mash of Bright eyes, the Libertines and the Rapture...three excellent reasons to check him out at his show at the
Metro
on 8th December. Tickets from
here
.
Tuesday, October 19, 2004
Give me something to believe in
For a good while now Abstractboy has been on a mission. Not on the UCL posh girl sort (e.g. "I'm going to mission it to Oxford Street"), but a mission for the good of all mankind: to find exciting new bands that actually mean something. While this may seem like some sort of
NME
and
02
clichée, there are some truely wonderful and exceptional bands out there that excite Abstractboy so much that he simply msut write about them.
But it hasn't been easy, as the terminology "mission" would imply. The struggle has not been without disappointment. Abstractboy has seen through bands he once loved, he has been betrayed, he has seen a lot of awful bands and will probably see a lot more before he has found enough exciting
bands to believe in
.
The first band I want to write about is
Bloc Party
. God Bless Bloc Party.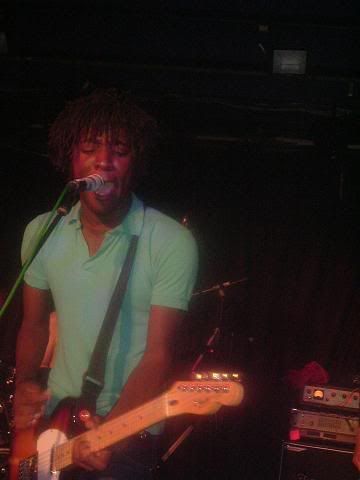 Bloc Party
don't
come from the hyped postcode du jour, SE14, New Cross. That's right! If you thought that then you have been deceived. Bloc Party in fact don't come from a scene and
NME
have been describing them as a New Cross band to add to their attempt to hype a scene and have the latest zeitgeist as their own. It's all quite funny really, but to the music...why should I believe in the Bloc Party?
They make music that makes you dance like the world is about to end, they make music that makes you want to cry like the world is about to end, they make music that makes you so angry that the world could end that you go out and do something about it. And they do all of this at the same time in the same songs. Their
website
has an articles section where members of the band write amazingly concisely on issues ranging from international relations to what is expected of an indie band in an ever increasingly competitive indie market or something. Forget
Geri Halliwell
's UN Ambassador stint or
Bono
's various endeavours - Bloc Party have real perceptive political brains. But it isn't preachy and it isn't as obvious as a
Brechtian
play. In fact Bloc Party can be any band you want - they can be that angular punk/funk band that gets everyone dancing, but when you listen closely they are making music more intelligent than almost everyone else right now.
And the success is coming their way quick. Their old singles are selling for
fortunes
on
eBay
and their gig at London's 1000 capacity
Heaven
is now sold out. Their next single, "Helicopter", is getting heavy rotation on XFM and looks set to be their biggest hit yet. So jump on the bandwagon quickly, but don't worry, they won't leave you behind like the others did. They care too much. God Bless Bloc Party.
Tuesday, October 05, 2004
Not many updates recently, huh? Don't worry, they are on their way. I have been very busy recently re-designing my main website -
abstractboy.co.uk
. I now have my own 500mb of space, loads of transfer, no adverts and at the cost of a provincial pint (£2.70) a month, courtesy of
uh-hosting
. There are lots of things that weren't on the old website - recipes, photos from my travels around Eastern Europe this summer, loads and loads more photos of bands, more features on bands. It's all very nice and I'm quite proud.
Term has started at
UCL
and due to some petty academic rivalry I am now doing a whole unit at
SOAS
instead of
SSEES
after much stress in Fresher's week. So now that everything is 'sorted' and settled Abstractboy can continue to blog! Hooray!