Tuesday, October 19, 2004
Give me something to believe in
For a good while now Abstractboy has been on a mission. Not on the UCL posh girl sort (e.g. "I'm going to mission it to Oxford Street"), but a mission for the good of all mankind: to find exciting new bands that actually mean something. While this may seem like some sort of
NME
and
02
clichée, there are some truely wonderful and exceptional bands out there that excite Abstractboy so much that he simply msut write about them.
But it hasn't been easy, as the terminology "mission" would imply. The struggle has not been without disappointment. Abstractboy has seen through bands he once loved, he has been betrayed, he has seen a lot of awful bands and will probably see a lot more before he has found enough exciting
bands to believe in
.
The first band I want to write about is
Bloc Party
. God Bless Bloc Party.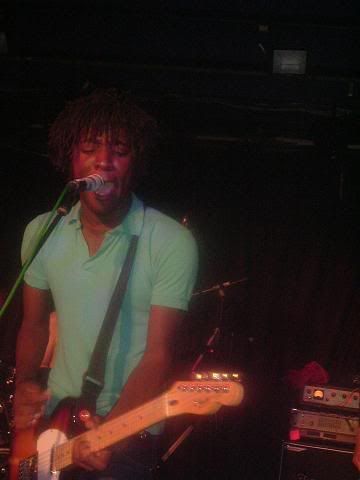 Bloc Party
don't
come from the hyped postcode du jour, SE14, New Cross. That's right! If you thought that then you have been deceived. Bloc Party in fact don't come from a scene and
NME
have been describing them as a New Cross band to add to their attempt to hype a scene and have the latest zeitgeist as their own. It's all quite funny really, but to the music...why should I believe in the Bloc Party?
They make music that makes you dance like the world is about to end, they make music that makes you want to cry like the world is about to end, they make music that makes you so angry that the world could end that you go out and do something about it. And they do all of this at the same time in the same songs. Their
website
has an articles section where members of the band write amazingly concisely on issues ranging from international relations to what is expected of an indie band in an ever increasingly competitive indie market or something. Forget
Geri Halliwell
's UN Ambassador stint or
Bono
's various endeavours - Bloc Party have real perceptive political brains. But it isn't preachy and it isn't as obvious as a
Brechtian
play. In fact Bloc Party can be any band you want - they can be that angular punk/funk band that gets everyone dancing, but when you listen closely they are making music more intelligent than almost everyone else right now.
And the success is coming their way quick. Their old singles are selling for
fortunes
on
eBay
and their gig at London's 1000 capacity
Heaven
is now sold out. Their next single, "Helicopter", is getting heavy rotation on XFM and looks set to be their biggest hit yet. So jump on the bandwagon quickly, but don't worry, they won't leave you behind like the others did. They care too much. God Bless Bloc Party.
0 Comments: