Thursday, September 23, 2004
I can see why you want to live here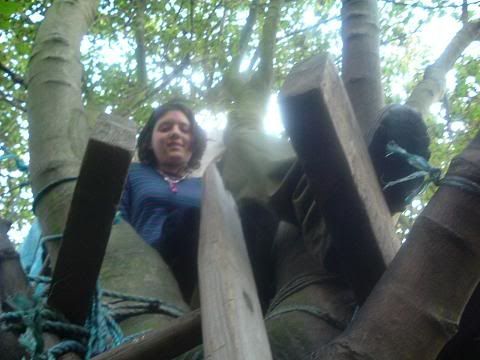 My 16 year old sister lives in a tree house. It's not something many people can say, but Abstractboy is quite proud of this fact. On a recent visit back to Edinburgh, Abstractboy went to visit his sister in her new habitat. While most 16 year olds are drinking in play parks and spreading rumours about eachother in the playground, she lives in a self-made tree house in Bilston woods on the outskirts of Edinburgh. The local council plans to build a bypass through this ancient wood, cutting the green belt around Edinburgh even finer. And because there are severe environmental repercussions from building the said bypass, Nat and over 25 other activists have occupied the woods, living in trees, eating food wastefully put in the skips of nearby Sainsbury's superstore and preventing the woods from being demolished, saving the animals living there.
At first I was sceptical. Shouldn't a 16 year old be in school? Shouldn't she aspire to get in to a
good university
like me? But when I visited her and saw how at ease she was and how happy she was in these surroundings it made me realise fully how dangerous it is to force all young adults through the same conventional education system. While she is an intensely intelligent individual (top marks in standard grades, despite dropping out of school three months before the exams), the school system was not for her. Whilst at school she was a lot darker and troubled, whereas now she is as free as the trees and the leaves and the wind, so to speak. At a time when teenage depression seems to be on the increase, it makes you wonder how much it could be prevented from having a more flexible education system that allowed for people to take time out of their schooling and try different ways of doing it. There are, of course, implications of having a more flexible education system - some people might simply just slip through the net and evade education entirely, which isn't good.
Something has to be done, however, to allow for children to have an education that suits them more than one system for everyone. I'm not really sure of anything else or have any great suggestions, but there is a clear neccesity at present to be more accomodating of children who do not fit as easily into the academic factory as others.
Saturday, September 18, 2004
Say Hello To The Angels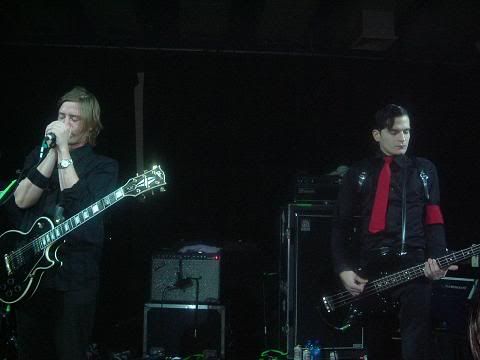 A while a go Abstractboy expressed his
regret
at having opted to see
Placebo
over
Interpol
at
Reading 2003
. This mistake has now been rectified. Phew. Interpol are back with a new album,
Antics
, due for release on 27th September and are currently on a short European promo tour, playing faux-intimate "club" dates in the hothothot cities of Paris, Berlin, London and Amsterdam. Abstractboy was lucky enough to get tickets for the show at the
Scala
show which sold out in 6 minutes!
And what a show it was! The level of anticipation in the lovely Scala's main room was intense. Interpol are clearly a band who have touched many people in a big way. There is something so wonderfully desolate and bleak about their debut, especially in songs like "NYC"...
"Subway she is a porno/ and the pavements they are a mess/I know you've supported me now/ Somehow I'm not impressed"
. It is just the perfect soundtrack for walking the city streets in the winter, frost bitten, suffering a mild case of SAD and wrapped up in nice scarves and gloves. It's nice to feel desolate sometimes. But with Interpol, it is the music as an entity that is so affecting. From Carlos' basslines, to Daniel's wonderfully haunting guitar, the subtle synths, the powerhouse drums and Paul's cutting and chilling voice, it all comes together to create this amazing finished product. And live it works well too. They are all very talented musicians as well as songsmiths and pulled the songs off almost effortlessly. Daniel shimmies around, looking suitably suave, Carlos does the motions while looking like a "gay vampire" as
the NME
once put it. At times the performance may have appeared a tad
aloof
, but Interpol's music has a beautiful subtelty that a lot of music lacks, for better or for worse.
Antics, however, is much more immediate than 2002's
Turn on the Bright Lights
, which was arguably a slow burner of a record. From the opening chords of "Next Exit", through to the current single "Slow Hands" (looking set just to miss the top 20), it is clear that there is a poppier sensibility to it. And yet nothing feels compromised, nothing is lacking, yet it still feels fresh and different to the debut even though there is still that underlying bittersweet feeling laced around every song. It looks set to deservedly take Interpol into the next league. Their date at London's Kentish Town Forum sold out in under 24 hours and the rest of the
UK tour
is selling fast. It doesn't feel like it will be the same sort of popularity enjoyed by
Franz Ferdinand
, which is probably for the best. Support at the London date comes from fast-rising New Crossers, the
Bloc Party
, who are frankly quite excellent. Watch out for Exciting! New! Band! Features!. And stuff.
Friday, September 10, 2004
Everybody comes to Holloway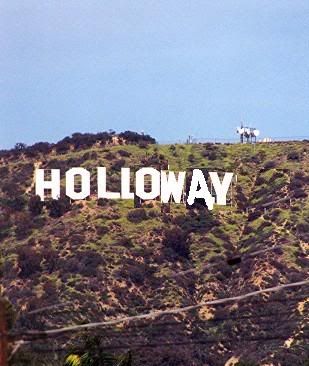 Holloway is perhaps one of the most under-rated areas in London. Sitting just above Highbury and Islington, it is a surprisingly central, relatively cheap, well amenitied, nice place to live. Not that Abstractboy is patriotic or anything, not at all! Ok, well maybe. It is easy to dismiss Holloway as just an average soulless North-East-ish London, congested and polluted, or lower Archway, or something terrible like that. In truth, N7 is perhaps one of the coolest postcodes to have. And due to its very fortunate name, it is easy to make catchy slogans promoting its undeniable greatness. "Everybody comes to Holloway", as Madonna intended to sing..."they want to make outside Nag's Head", perhaps selling imported illegal cigarettes, or pirate DVDs. There is an undeniable, un-condescending charm to Holloway. It feels like a
real
area. There are people that have obviously been living in N7 for years, people of all colours and sizes and shapes. There are the cool indie gliteratti, too poor to live in Camden or Shoreditch, pushing the "I love N7" front, the old ladies plodding around own-brand department store, James Selby, the preachers, the beggers, the yuppies in
Waitrose
(Abstractboy does like the reduced cakes and desserts at the sweet counter in the evening), the market sellers...it is fair to say that it plays host to one of the biggests cross sections of society in London.
But there are people who want to bring Holloway down.
Snobs
from "Tufnell Park" (Holloway East) refer to Holloway Road as the "Horrorway Road", even though they are perfectly happy to take advantage of Holloway's Waitrose. One website even describes it as an extension of the A1. These people are simply misguided. Of course Holloway is part of the A1, but that is nothing to be ashamed of. It is simply a link between one great city (Edinburgh) and even greater one (Holloway). It even reaches as far as central London! It is clear that people only criticise Holloway because they are envious of its relatively cheap rent, 20 minute commute (by bus) in to central London, great amenities, and beautiful residents. It should come as no surprise, then, that Abstractboy has decided to dedicate this coming year to puting Holloway on the coolmap. He has started planning music festival, "Holloway Rocks", and has already made a T-shirt in the style of the "I love NY" t-shirts, proclaiming his love for N7. Success has already been achieved - the doorwhore at
Trash
called Abstractboy a "brother" for living in N7 with him. Everybody who matters does really love Holloway, they just don't know it yet. And they will by the end of the year, don't you worry!