Saturday, September 18, 2004
Say Hello To The Angels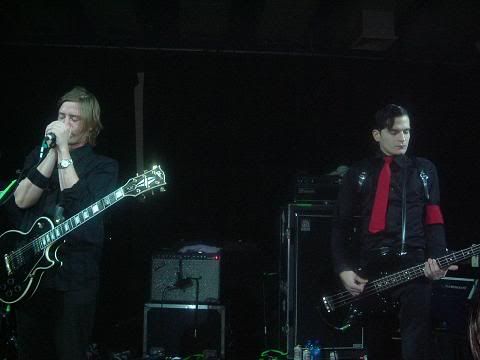 A while a go Abstractboy expressed his
regret
at having opted to see
Placebo
over
Interpol
at
Reading 2003
. This mistake has now been rectified. Phew. Interpol are back with a new album,
Antics
, due for release on 27th September and are currently on a short European promo tour, playing faux-intimate "club" dates in the hothothot cities of Paris, Berlin, London and Amsterdam. Abstractboy was lucky enough to get tickets for the show at the
Scala
show which sold out in 6 minutes!
And what a show it was! The level of anticipation in the lovely Scala's main room was intense. Interpol are clearly a band who have touched many people in a big way. There is something so wonderfully desolate and bleak about their debut, especially in songs like "NYC"...
"Subway she is a porno/ and the pavements they are a mess/I know you've supported me now/ Somehow I'm not impressed"
. It is just the perfect soundtrack for walking the city streets in the winter, frost bitten, suffering a mild case of SAD and wrapped up in nice scarves and gloves. It's nice to feel desolate sometimes. But with Interpol, it is the music as an entity that is so affecting. From Carlos' basslines, to Daniel's wonderfully haunting guitar, the subtle synths, the powerhouse drums and Paul's cutting and chilling voice, it all comes together to create this amazing finished product. And live it works well too. They are all very talented musicians as well as songsmiths and pulled the songs off almost effortlessly. Daniel shimmies around, looking suitably suave, Carlos does the motions while looking like a "gay vampire" as
the NME
once put it. At times the performance may have appeared a tad
aloof
, but Interpol's music has a beautiful subtelty that a lot of music lacks, for better or for worse.
Antics, however, is much more immediate than 2002's
Turn on the Bright Lights
, which was arguably a slow burner of a record. From the opening chords of "Next Exit", through to the current single "Slow Hands" (looking set just to miss the top 20), it is clear that there is a poppier sensibility to it. And yet nothing feels compromised, nothing is lacking, yet it still feels fresh and different to the debut even though there is still that underlying bittersweet feeling laced around every song. It looks set to deservedly take Interpol into the next league. Their date at London's Kentish Town Forum sold out in under 24 hours and the rest of the
UK tour
is selling fast. It doesn't feel like it will be the same sort of popularity enjoyed by
Franz Ferdinand
, which is probably for the best. Support at the London date comes from fast-rising New Crossers, the
Bloc Party
, who are frankly quite excellent. Watch out for Exciting! New! Band! Features!. And stuff.
0 Comments: