Sunday, June 25, 2006
They say that there ain't no romance around here...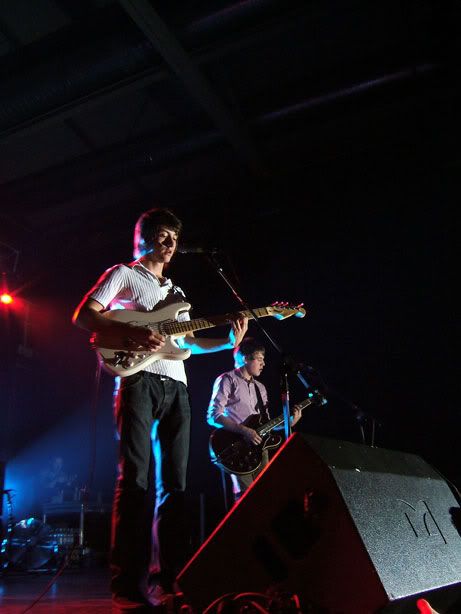 I'm supposed to be writing my dissertation, but last night's
Arctic Monkeys
gig was too amazing to write about later. The whole evening had an air of utter excitement, from the late doors and the
amassed crowds waiting outside
, to the deafeningly enthusiastic
sing-along
. It confirmd any doubts that anyone might have had that this band are undeserving of their position as probably the most exciting British band of the last 10 years. I saw them for the
first time
over a year ago, the day before they would release their first single which sold out that morning. They had played Edinburgh's Subway club, which is pretty much a barn with a soundsystem. No lights, no barrier. It was amazing - the crowd was full of fresh faced kids who sung along passionately to every song, spitting the words right back at a then much slighter Alex Turner. The not-even-sold-out venue's acoustics were poor, but the poetic and melodic strengths of their songs shone through and their demos became the soundtrack to my summer.
A year later and the band have set the world on fire, having maintained an amazing degree of integrity. They are never papped, they only do a sensible amount of interviews, they don't play too much, and don't release singles every six weeks, they know the dangers of over-exposure and they try to keep it to a minimum. When they took to the stage of Berlin's 3500 capacity
Columbiahalle
, it was the same good humoured, Northern
banter
that had charmed me so much last year. Particularly smile-raising was that the German crowd are now emulating the Yorkshire accent, just as they were at Maximo Park with the Geordie accent earlier in the week. On a side-point, does the whole New Yorkshire "scene" mean that Germans will finally get rid of the German accent when speaking English (this isn't a criticism, I'm not fooling anyone with my German accent!) and start ranting about "fookin' this" and "fookin' that". It'd be pretty cool.
Banter or not, the songs all stand up on their own. Every song sounds like a single, partially becaue you've listened to the album so much, mostly because they all could be. They all have the crowd singing-along like it's the song they've been waiting for all night...but, y'know, 13 times. An unrecorded new song,
Leaving Before The Lights Come On
sounds like a real step forward for the band. It's more power-pop than before, with some bits that sound so perfect, they could be Blondie. No joke. You can download it from fansite
Mardy Bum
's awesome
live bootleg page
. The Arctic Monkeys rule the school because they romanticise being young. If you're young it gives a small validation that it's ok being confused and complicated and wanting things and just not knowing, it speaks to you like many bands can't. And if you're old, then you were young once and t'Monkeys capture that perfectly.
Friday, June 23, 2006
Art Brut, Top Of The Pops
Art Brut are big in Germany and getting big in America. They aren't so big in Britain because they sound too British for the Brits to take it seriously. To the point...They have a song that goes "Art Brut! Top of the pops! Art Brut! Top of the pops" and as we learnt this week,
Top of the Pops is being axed
this summer after 42 years on air. It only seems appropriate that Art Brut should get to sing their song on it before the programme goes and renders every top of the pops reference in modern music an antique. There's a petition with over 1000 signatures - please sign and spread the word!
Dear The BBC...
I will be blogging properly again soon, once I've met a deadline for my dissertation in a week! And I don't have a summer cold anymore. Blergh.
Saturday, June 17, 2006
Writing Articles Is Different To Blogging
The Dresden Dolls, Spiegelzelt, Berlin, 14.05.06
"We were so excited when we heard we could play in a mirrored tent"
exclaimed
Dresden Dolls
singer, Amanda Palmer as she took to the stage of the Spiegel Zelt, erected temporarily for this travelling mini-festival taking place in mirrored tents all across Germany. The sunset was glowing through the stained-glass windows of this curious, decadent velvet and wood-laden construction next to the railway tracks at East Berlin's former main station. It seemed a suitable place for the Dresden Dolls, who describe themselves as Brechtian Punk Cabaret, to introduce their new album,
Yes, Virginia
, to the country which gave them their name and, of course, Bertolt Brecht and his wonderful and strange theatre.
Since the release of their eponymous album in 2004, the Boston duo has accumulated a dedicated, passionate and numerous following without attracting too much hype or mainstream press, mainly on the back of word of mouth praise and blistering live shows. Tonight was no exception. Though the sun was still illuminating the tent from all sides and the Dresden Dolls are a band best served in eerie, smoky darkness, Amanda and drummer Brian Vilgione conjure up the most dark, intense energy in their live show that it could have been on a Caribbean beach and still been as impressive. Like
the Kills
, the sparseness of the arrangements, i.e. only keyboard and primal drums against Amanda's rich and frantic vocals, makes the drama so much more affecting and severe. As they look at each other across the stage, all the intensity which connects a band of five members is concentrated into this solitary, manic gaze. Watching them play live, it's easy to lose yourself in their moments and their music.
As with all things cabaret, however, it's not all serious. Their single
Coin-Operated Boy
is a cheeky crowd-pleaser and their cover of
Grauzone
's Eisbär, a Swiss new-wave band's ode to the polar bear, had the crowd waving arms and singing at the top of their voices. Perhaps fittingly it was not one of their own songs that captured the evening, but a cover of the late
Jacques Brel
's
Port of Amsterdam
, a wistful, sexy, dark tail of a sailor in Amsterdam in a long gone time of swashbucklin' filthy cabaret bars frequented by interesting and shady clientele, the vice and the sleazy. The Dresden Dolls romanticise and capture this decadent and dangerous world and their concerts make it real for people bored in an over-sensitised and sanitised present.
This will appear, in a better written (i.e. editted) form at
Wears The Trousers
. To see other reviews and interviews I've written for them, go
here
. And do make sure you download the back issues of the magazine. It is such a nicely written/produced magazine, and free. The next issue will feature interviews with The Dresden Dolls, The Cardigans, Juana Molina, Psapp, The Handsome Family, Metric, Nerina Pallot, Po' Girl, Mia Doi Todd, Amy Wadge, Peaches, Joan as a Policewoman, Rainer Maria, Lisa Germano, Thea Gilmore and Stephanie Kirkham! They are always looking for more writers, so
get in touch
if you are interested.
Wednesday, June 14, 2006
Making Plans for Rock
I feel very fortunate for quite a few reasons. Firstly that I know
Elizabeth
(click to check out her new blog!) - a person who makes things happen and makes people happy without really taking credit for her greatness. I also feel fortunate that she introduced me to
Planning to Rock
and got me into her album launch show, because it left me dumbfounded in a very good way. So Planning to Rock...what is there to know? Planning to Rock is Janine Roston, a lady from Bolton, who moved to Berlin. She is a suprememly talented musical visionary and video artist. She is signed to
Chicks On Speed Records
and seems to be the first Berlin based-Künstler since
Peaches
to really get people excited. Her album,
Have It All
has just been released in Europe and will be released in the USA on 28th June.
Her music is impacting because it sounds like nothing you've ever heard before. Her
MySpace
page describes the influences as "your typical Elizabethan jig", which certainly features in the overall sound, but think more...Opera, Hip-Hop (Berlin-style), Northern English vocals and humour, David Lynch films, philharmonic orchestras, the first time you listened to a Go! Team or a Knife album, electro beats and South London Grime...it could be messy, but it's an incredibly focused and assertive album, strange and affirming, dancefloor-friendly and creepy.
The live show was a big deal. It took place at the
Volksbühne
, where a completely different set had been built on top of the standard theatre chairs and stages. It was all white, with two huge video screens and an L shaped stage. Throughout the show videos would be shown on the screens, most by Janine herself, others by fellow artistic friends, including
Kevin Blechdom
. Janine was dressed all in white, wearing bad-ass baggy white trousers of which she often grabbed the crotch in some of the more appropriate moments in the set. Her only prop was a chair (white as well!), which she would twirl around, sit on, throw, etc. It reminded me of theatre productions I did while at school, using minimal props to create a slightly Brechtian effect. What was entirely striking was the degree to which the evening was a thought-through and fluent product. Nothing was incidental, everything was intentional. From this harmony it was clear that she is both a visual and musical artist. Also clear was that she meant everything, she was in a world of performance, immersed in her art, her strong soul voice rasping with feeling. I see so many bands play live that you really can tell when someone means it when they play/sing it, and Planning to Rock are as real as they come. Check out her
website
for tour dates, etcetera.
And if you're in Berlin, GO TO SEE THE
GOSSIP
ON MONDAY AT MAGENT. It can only be amazing. And if you miss it, come see them at Ostgut with me on 13th July. Indeed.
Friday, June 09, 2006
Royally Used
I did the un-do-able. I managed to see both my favourite bands on the same night in different venues. I gig-hopped and succeeded! I cycled 2km in pouring (under-exaggeration) rain to get from
Yeah Yeah Yeahs
at Postbahnhof to see
Sons and Daughters
at the
Domino
night of
British Music Week
at Berlin's recently opened
Lido
(good lighting, too clean). It was my 13th time seeing them, but my first time since the end of The Repulsion Box tour, which drew to a close with a Hogmanay show in Edinburgh. Since then the band have a bit of time off, been to Moscow (three days after I left!), and were hand-picked to support
Morrissey
on his sold out British tour. And then they came to Berlin for this one-off show.
The band were much stronger after a break, although the
show
they played in Berlin in November was one of their best, despite having been on tour for 3 months without a break. In fact, they have got better every time I've seen them, which is one of the most satisfying things about being a fan of theirs. They are so dark and brilliant and put on the kind of live shows that are so intense that they would leave any other band collapsed in their dressing room afterwards. And yet they never cease to amaze me with how much stronger they get. And from the two new song they played,
Gilt Complex
and
The Nest
, there are still many more exciting things to come from the band.
Gilt Complex
stood out particularly, maniacally fast and devilishly dramatic, singer Adele Bethel can ever more be likened to a banshee. With some bands you just want to hear the old songs, but Sons and Daughters sheer talent makes you crave everything they'll ever write ever. There's no set release date for the next album, but I'm sure it'll leave listeners just as breathless as
The Repulsion Box
.
Thursday, June 08, 2006
Blogdammit
So I think it's official now, the
Yeah Yeah Yeahs
are the best band on the planet. And a dish much better served in a small venue. I saw them at Berlin's 1000 capacity Postbahnhof almost two weeks ago, and due to a significant number of factors, they rocked a lot harder than at either of their London shows. Reason #1: the venue was smaller. Reason 2#: the barrier was about 30cm from the stage - YYYs are all about an intense energy between the audience and the band, and a row of 7 ugly bouncers does nothing for that delicate chemical balance. Reason 3#: it wasn't full of British people, I hate to be all anti-patriotic (I don't really), but it really seems to be the case that in Britain people just go to gigs because there are tickets. It's a sport going through
SeeTickets
ever morning and seeing what gigs to go to. There's inevitably a good half of each crowd who couldn't really care less, standing at the back of the venue chatting and drinking Carling. This was the first time YYYs had played in Germany for more than three years and the energy was amazing. And the crowd's energy translated into the YYYs energy and it was all good.
What I particularly love about YYYs is their close eye on their fans. Nick Zinner takes a photograph of every crowd they ever play to, usually during the intro to
Maps
and he's published three photography books, the latest is titled
I Hope You're All Happy Now
and contains mainly pictures of front rows. As a front-row fan, I love noticing the looks he steals, his quiet smiles as a crowd surfer struts sweatily along the photo-pit chased out by bouncers. They are constantly changing their setlist, experimenting with running orders, ommissions and rarities. They are aware that they can miss out a single (as they did with
Gold Lion
and nobody would notice, not because the single was bad, but because they have enough killer material that they don't have to play the same set every night and bore themselves, and consequently not have the same energy. No matter what they play they still make me shake with inexplicable feelings and non-feelings. There are no bands like them and no bands that try to sound like them that even get a whiff of the abstract drama, the inimitable strangeness which has rendered them (probably) the most durably credible of the 2001 New York set.
I bumped into Nick and Brian after the show at
Rio
and managed to corner Brian for about 25 minutes. We talked about a lot of things, but what really stuck was his disaffection for blogs! Shock! I managed to convince him otherwise - I love blogs (the good, well-written ones) and couldn't perceive how anyone could hate blogs. But then I went on some of the New York ones (everyone and their dog in NYC has a blog) and saw what he meant. Still, we both agreed that
Miss ModernAge
's coverage of their preview shows for Show Your Bones was excellent. If you haven't read her blog, you really should. It's the best indie-rock blog out there, so says I. Nick told me he wants to move to Berlin - a sensible move indeed. They left at 4am, the wooses, and I couldn't stop smiling all night.
Friday, June 02, 2006
Hot Rock
Sleater-Kinney
are the real deal. They are a true rock band. Everything about them leaves me in awe. They still set up their own equipment despite having released seven albums and toured the world over several times. They play six song encores. They run their own merchandise stands at the end of gigs and seemingly aren't phased by meeting hoardes of obsessive (and sometimes scary) fans. They get the bands they love to support them, including
The Long Blondes
and
The Pipettes
, as well as
Yeah Yeah Yeahs
in the past. And they play live with such a passion that it really does give me the shivers.
So it was naturally very nice seeing S-K play in Berlin last week to a very enthusiastic audience of left-field indie kids, lesbians, feminists, Americans, old men that like PJ Harvey, etc. But part of me cannot let go of the injustices of it all. Sleater-Kinney have been, as previously mentioned, amazing for seven albums, yet they haven't got much more popular in the last three albums, each of which a step forward. Beth Ditto of
The Gossip
remarked in a recent interview with
Artrocker
that Sleater-Kinney have been playing the same size of venues for years, in an interview which said
NME
's chauvinism made her very afraid (a review in 2003 was disgustingly sexist and sizist about her), her general point being that the mainstream music press just won't take "the risk" with women, they won't put them on their covers, they won't do anything other than the odd "radar" feature. Exceptions have been Yeah Yeah Yeahs (Karen O, I think, can be quite easily typologised as an asexual enigma - in that her live performances are abound with a childlike naivety, rather than legs-spread sexuality) and PJ Harvey (because she is exceptional, and men of all ages fancy her). Music very rarely seems to the issue.
Which is why I'm glad to
write
for
Wears The Trousers
. When I look at their
reviews
page, I realise how many female-fronted bands and female singer-songwriters slip through the mainstream media's net. Admittedly Sleater-Kinney still get good reviews in all areas of the meejah, but there is a clear balance to redress. So back to my gushing on the gig...I'm not especially coherent today.
Their live performance is entrancing, it's so raw. It's empowering vocals, two guitars and one set of drums. It's punchy riffs, it's feedbacks, it's headaches for two days. It's closing your eyes and getting lost of the moment of the music. It's shaking all over. It's being lost for words as they leave the stage and still not finding them on the train home, and then writing an incoherent blog about the gig to try and make people understand. If you want to start out on Sleater-Kinney, go and
buy
One Beat
. Download
Oh!
from that album
here
. Thank you!