Thursday, December 22, 2005
Top 12 of 2005
2005 has been an undeniably brilliant year for new music and narrowing my finds from a whole year down to ten was an impossible task, hence it being a top 12.
1. Arcade Fire – Funeral
An album, though released in 2004, has had a profound impact on many people this year, The Arcade Fire led the way for a new wave of exciting, deep, dark Canadian bands. Funeral expresses the rawest and most inexplicable of human emotions – most notably love for the family and the feelings of loss. These subjects have rarely been touched on so explicitly, but the Arcade Fire have handled it in a way that is both dark and euphoric. It is musically lush and grandiose and often experimental, but not in a way that should put people off. If you haven't given this album a proper listen, then do it soon. This album is truly brilliant.
2. Sons and Daughters – The Repulsion Box
The darkest and bleakest album in a good while, Glasgow's Sons and Daughters have proven themselves as clever songwriters with this almost-concept album – the concept being sinister stories, nasty characters, dying in bathtubs, the Shangri-Las. Adele Bethel's screaming banshee vocals contrast nicely with the low gravely drawl of Scott Paterson. There are Scottish folk influences, which make the feel of the album all the more dark and pagan. Nick Cave is also a clear influence, but Sons and Daughters are no mere copyists. At 30 minutes all in, this album leaves the listener out of breath from its pounding intensity, hand claps and military drumming. It is not the year's most accessible album, but makes for compulsive listening.
3. Patrick Wolf – Wind In The Wires
Patrick Wolf's second album is a beautiful and folky affair, sweeping with it's string arrangements, gypsy chants, songs of travel and escape. It opens with the Libertine – a warning and a push in the direction of freedom from boundaries and restrictions people put on themselves. The album was recorded on a cliff-top in Cornwall and the wildness of nature and the freedom of the experience are explicit from listening to the album. Patrick Wolf is a romantic and this album is about as beautifully romantic as they come. The composition on Wind In The Wires is also exquisite. Patrick has a natural ability for song-writing, knowing exactly to which chord to change and how to order an album.
4/5. Bright Eyes – I'm Wide Awake It's Morning, Digital Ash In A Digital Urn
Bright Eyes' Conor Oberst is a prolific, prodigious talent. So prolific is he that he decided to release two albums on the same day – the former a stripped back folky, almost country album (notice a theme?), the latter a electronic and atmospheric folky album. I'm Wide Awake… is the most instant of the two records, more clean sounding than earlier Bright Eyes records and with a series of duets with Emmylou Harris. Digital Ash… is a real grower. The orchestration is almost epic, but certainly not over-produced or messy. Apprehension for the future is a theme that runs deep through Bright Eyes' work, time and clocks recurring as metaphors throughout these albums. It is perhaps fitting, then, that these albums sound so timeless as though to evade past, present and future, despite one supposedly sounding modern and the other "stripped" – he's a clever guy, that Conor Oberst, he knows what he's doing.
6. Camille – Le Fil
Camille is a French singer, most famous for singing on Nouvelle Vague's album of Bossa Nova interpretations of New-Wave classics, but Le Fil is actually her second solo album. The title translates as "the thread", regarding the vocal hum that flows constantly through the record, under the complex and luscious vocal layering and melodies, creating a fluid and bound piece of art. The album is sung almost entirely in French, with a few strands of English appearing in some songs, but French speaking friends assure me that, though the lyrics are indeed wonderful, the wonder of Le Fil is its complex and beautiful sound. Opening song, "La Jeune Fille Aux Cheveux Blancs", is the most luscious composition of them all. The orchestration is so pure – it feels like a sun rising, unscathed by cynicism and sin. The chord and respective melody movements are so genuinely perfect that they could make the hairs on your neck stand on end.
7. Wolf Parade – Apologies To Queen Mary
Like the Arcade Fire, Wolf Parade also hail from Montreal, and also like Arcade Fire, they play an experimental, expressive and dark blend of indie-rock, but there the similarities end. Wolf Parade are that kind of sad music you can dance to – flitting between desperation and angular yelping electronic dance-fests. In some ways it sounds like where Hot Hot Heat would be if they'd not gone down the major-label shitter and focused on their more darker emotions a bit more, but it's a lot more new wave for the most part, with some killer synth lines.
8. Clap Your Hands Say Yeah – Clap Your Hands Say Yeah
Until recently they were the best unsigned bands and now they are just one of the best bands, having shifted over 25,000 copies of this sublime eponymous debut album through their own website, and signing record deals on the back of their "internet success". But enough biography – the music speaks for itself. It is perfect pop music, sweeping synth strings, crisp acoustic guitars, complex layers of background vocals. It is thoroughly uplifting, but has a sad and desperate edge. The vocals are strained (in a good way!) and emotive, adding to the sense of passion in the music. Clapping your hands and shouting "Yeah!" never felt so good.
9. The Go! Team – Thunder/ Lightning/ Strike
The Go! Team is almost a religion. Their music is full of self-referential chants: "Go! Team!" "We came here to rock the microphone!" They resolve faith in mankind, they are something entirely positive. But unlike religion, they don't cause divisions (controversial!), they bring people together in a hip-swinging and arm-waving mass with their sample-based, hip-pop-hop-disco-sixties-indie…altogether genre-defying party soundtrack of an album. It has been masterfully made from samples and loops in a similar way to the Avalanches, but with results that stamp all over the notion of genre and convention. Thunder/ Lightning/ Strike is an album that will make you smile uncontrollably.
10. Sufjan Stevens – (Come on feel the) Illinoise
Oh Sufjan, you handsome, talented, young man. Sufjan Stevens has set himself the task of writing an album about all fifty states in America. In 2004 he set the ball rolling with Michigan, and second on the list is neighbouring Illinois. This is a heartfelt and genius ode to growing up and being lost and, on another level, to the places he knew when he was growing up and getting lost. The originality is not limited to the unique concept for the album, but also the style – it is littered with Broadway style snippets, horns, steel drums, orchestral flushes. It creates a Big Sound – a sweeping soundscape suitable for the incomparable grandiose of Illinois.
11. Emiliana Torrini – Fisherman's Woman
Fisherman's Woman is a delicate, wistful folk album, so perfect in so many ways. It is all tinkling guitars, simple percussion and lovely crystal clear vocals, delivered in a faintly Icelandic accent. What is most striking is the honesty of the lyrics – the listener feels a personal connection with Emiliana as she sings about reminiscing over first loves, the inexplicable close relationships with friends, loss (Emiliana's long-term boyfriend died in a car crash, almost stopping her from making music ever again – luckily she came to her senses), depression…it's a wonderful, open album perfect for solitary listening, for summer evenings, for being young adventurous buckaroos, or nostalgia for times when you had more free spirit.
12. Tom Vek – We Have Sound
It's over a year and a half since I was first amazed by Tom Vek and his dancey-funky-experimental-indie, but successive listenings and gigs have not taken their toll. The less imaginative would compare him to a young Beck, but this is more original and fresh than any comparisons would do justice. It's all fairly lo-fi and self-produced – in his home studio, nonetheless. It is punchy in places – particularly "If You Want" and "I Ain't Saying My Goodbyes", while the latter half of the album is verging on trippy. Dance. In any case, Tom Vek dances, and makes me dance, like a blind mole – no cares, no barriers, and no boundaries.
Also deserving an honourable mention:

The Raveonettes – Pretty In Black
Franz Ferdinand – You Could Have It So Much Better
Maximo Park – A Certain Trigger
Fischerspooner – Odyssey
Arab Strap – The Last Romance
The Decemberists – Picaresque
Annie – Anniemal
Smoosh – She Like Electric
Death Cab For Cutie – Plans
Robyn – Robyn
Editors – The Back Room
Ladytron – The Witching Hour
The Rakes – Capture/ Release
Shelly Poole – Hard Time For The Dreamers
Bloc Party – Silent Alarm
Vashti Bunyan - Lookingaftering
Albums I know I'll love when I hear them:
The Chalets
Broken Social Scene
The New Pornographers
Stars
2006 will see highly anticipated albums from Yeah Yeah Yeahs, The Long Blondes, The Pipettes, Belle & Sebastian, another Sons and Daughters, Stellastarr*, Radiohead...and many more bands we have still yet to hear. I'm excited already.
Have a Merry Christmas and a Happy New Year.
Robbie
xxxx
CLAP YOUR HANDS SAY YEAH!
Clap Your Hands Say Yeah
have a name that turns off as many people as it inspires. I'm warning you now - don't be put off. Don't cut your nose off to spite your face, or judge a book by it's cover or any other of these metaphors that are just screaming "LISTEN TO CLAP YOUR HANDS SAY YEAH FOR GODDSAKE". Because they know that samples sell records, they have hosted two of their best songs (
On This Tidal Wave Of Young Blood
and
Over and Over Again (Lost and Found)
) for your downloading pleasure. Their sound is a suave, swaying, elegant indie that you just can't help but shimmying to. Like fellow New Yorkers, the wonderous
Interpol
, Clap Your Hands Say Yeah's songs and lyrics leave the listener with a strong sense of the emotion of the song, but a vague understanding of the lyrical context. What they are actually saying isn't obvious, but the feeling that the music and somewhat abstract lyrics creates is felt strong. The band have just rounded up a short but succesful European tour and will be heading back over to Britain and Germany (dates in other countries still to be confirmed) in February. Meanwhile, their album is available on import and will be released properly in Germany on 20th January and in Britain on 24th.
German dates:
/// 15.02. Hamburg - Tanzhalle /// 16.02. Berlin - Postbahnhof /// 17.02. Köln - Gebäude 9 /// 20.02. München - Ampere (
source
).
Tuesday, December 13, 2005
Separated By Motorways
The Long Blondes
are amazing and their new single,
Separated By Motorways
is out now in the UK on limited 7inch only. It is a 60s girl group, power pop throwback in the right direction - punchy chords, crystal clear vocals, some darkness, some light, some irony, but mostly honesty. Flick back to July to read a proper post on them, but for now,
buy their single
.
You can hear some of their songs on their
MySpace profile
.
Monday, December 05, 2005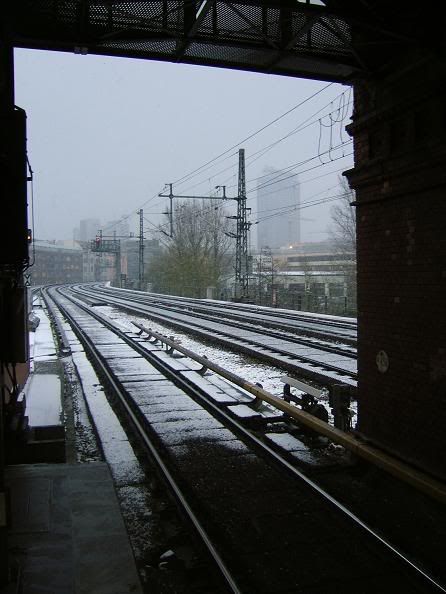 Snow in central Berlin, Friday 25th November 2005. Hackescher Markt S-bahn station. The elevated S-bahn cuts right through central Berlin on an East - West axis. It is one of my favourite journeys and one of the best ways to see the sites of Berlin if time is short. Moreover, you can see the architecture and history develop, the change and construction happen.
Sunday, December 04, 2005
Wolf Parade
are from Montreal, which has become renowned this year for it's vibrant and exciting music scene. Gone are the days when Canada is the butt of all jokes, especially with regards to music. Previous to the Arcade Fire's magnificent breakthrough this year, The Rest Of The World's Perecption of Canadian Music was limited to Alanis Morrisette, Bryan Adams, Celine Dion and Avril Lavigne. Wolf Parade's debut album,
Apologies To The Queen Mary
is a special, dark, haunting piece of art. There's a similar focus on the most primitive of human fears - death, mortality, loss, fatigue - to
Funeral
, but they are in no way copycats, and certainly not poor relations. Their
myspace profile
(what is it with bands and myspace these days?) has two songs from the album available for your listening pleasure.
I caught them at their Berlin gig two weeks ago and was surprised to see Dante DeCaro (formerly of
Hot Hot Heat
) as the
support act
and also as part of the Wolf Parade live band. Live, their music is even more impressive. With two guitars, bass, two keys, drums, windchimes and all sorts of make-shift percussion, their songs were brought to another level. It was a passionate, sweaty, intense performance, which left the crowd of mainly American exchange students and ex-pats out of breath and astounded at what they had just experienced. Watch out, wolves are on the rise.
Friday, December 02, 2005
Stellastarr*
are back from an extended hiatus and played a short UK tour this week. I caught them at the Metro in London (and flew over especially for it) and was reminded exactly why I love them so much. The intensity with which Shawn sings, the almost lunatic introspection of the bands' performance, and the haunting background vocals of bassist, Amanda Tannen, and guitarist, Michael Jurin. Plagued by record company marketing problems, the European release of new album, Harmonies For The Haunted, has been delayed until February 2006. A shame in some ways, but this should, at least, mean that they are able to give the promotion the attention it deserves.
The end is the beginning is the end. And this is snow covered fields in Northern Germany on 29th November 2005.