Friday, April 29, 2005
Pipe down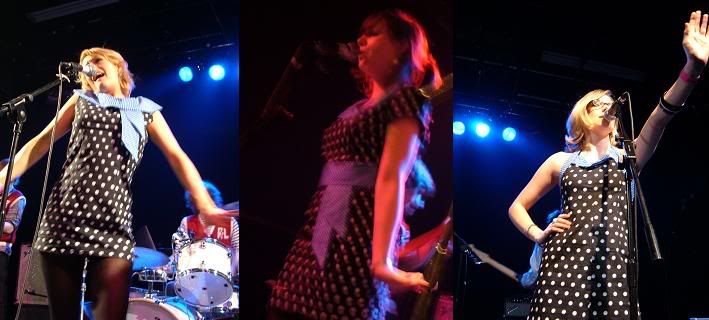 I've not much to confess, other than I've fallen in love. I've fallen for polka dots, sunshine, 60s dance moves and pop perfection. I've fallen in love with summer nights and horizons and warm lambrini out the bottle. I've fallen in love with
the Pipettes
.
The Pipettes are pop in the most pure form. They are the Shangri-Las of now, there is call-and-response, harmonies, songs about boys, songs about girls, dance moves, glitter, songs about dancing. It could be about nothing, it could be about everything, but it sparkles like nothing else right now. They come from Brighton, they live for the summer, the boys wot play da music wear thick knit tank tops with their initials embroidered on. If you get the chance to see them, they will make you happy like no other band before. You too might skip along the Mall as I did after catching them support the legendary
Sleater-Kinney
at the
ICA
. They have a single coming out in June, with details yet to be announced. If you go on their
website
, you can listen to three of their excellent songs.
Thursday, April 21, 2005
I'm pretending to be a good Fisherman's Woman
There's something about the notion of the solo artist that intrigues me. While good bands are interesting in that there is usually some sort of chemistry on the live stage and a collaborative creative process that results in a fantastic sound. Obviously there are too many bands who lack this, and many who are really just one creative driving force and a bunch of musicians. But with solo singer-songwriters, all the focus is one person, the music and creativity comes from one enigmatic soul. Increasingly, I've been listening to more and more singer-songwriters. Maybe I'm getting older and wearier, and wanting something a bit more chilled, or maybe, as my twentieth birthday approaches, I am wanting something more, another level, from my music.
Emiliana Torrini
is something more. Not necessarily as deep and dark as
PJ Harvey
, or as tortured as
Conor Oberst
, or as musically genius as
Patrick Wolf
, Emiliana's gold card is her loveliness. Loveliness is a double edged sword. One (should they be that way inclined) may describe
Dido
as LAAAVELY, but this might be the same person who would describe
Alanis Morissette
as enigmatic, and so are clearly devoid of reason. No, Emiliana Torrini's new album,
Fisherman's Woman
, is just lovely. It's all clean plucked acoustic guitars, her wispy, soft, Icelandic-accentuated voice, and some of the satisfying gorgeous chord changes known to the genre of folk. It is the soundtrack to a summer, late nights, midnight skies, red wine, being carefree. It could all be very clichéd, but it isn't. Listening to the album and writing about it is one of the only things that alleviates the stress of exams, it's like it doesn't even matter.
But as well as all the aforementioned loveliness, there is a tinge of sadness. Like Mrs Dalloway contemplating jumping off the balcony, there is an element of edge: the thin line between elation and desperation. It's subtle: you could be lost in her enchanting voice, but hints of desperation in songs like "Today has been ok", but it is more wistful really. Emiliana creates fantastic characters, like in the title track, where she is a fisherman's wife, waiting for her fisherman by the window with the brightest red lipstick on her lips. It's intoxicating stuff. Live, she is even more intoxicating. In true folk style there were candles burning, floaty fabrics (FIRE HAZARD AHOY!), and stories behind every song. It was more intimate than you could imagine, and every single person in the sold-out crowd left with an infallible grin on their face. Her single, SunnyRoad, just has that affect on people: bittersweet, wistful, a tale of unrequited young love with which many could empathise and about which the rest could fantasise. Word of the loveliness of the album is mainly being spread by word of mouth and gleaming reviews, so let's hope it becomes the hit it deserves to be. And hopefully we won't have to wait another 6 years for the next one!
In other news, abstractboy.blogspot is one year old today!
Wednesday, April 13, 2005
Just Dance Me In
Not so long ago
I wrote about a fantastically fresh and exciting band that shared their name with an Australian soap opera. I had seen them live for the first time and was hugely impressed. Since then I have seen them a further five times and have fallen five times more in love. Ladies and Gentleman, I re-introduce
Sons and Daughters
. Since the last time we conversed on this hot topic, Sons and Daughters have been locked in a studio in Germany finishing off their forthcoming album,
The Repulsion Box
, playing a few one-off shows, and are now on tour with fellow Scottish folkinpsiredindiepopsters,
Idlewild
.
And trust Abstractboy on this one - the new album will be amazing. The new songs have a fuller, more confident sound, and the energy is right off the mark. While
Love the Cup
is great, most of it does not do justice to the fire that is so central to their live show, the onstage chemistry between Scott and Adele, and the powerhouse rhythms belted out from David's drums. But with all these brilliances accounted for,
the Repulsion Box
should take off where the latter left. The new single,
Dance Me In
, is the perfect taster for what is to come. Sultry, full of zest, with the irresistable folk twangs that characterise their sound. But this sounds like more of a pagan spell than a hippydrippy gathering round a campfire (or whatever else folksters do). The video (
fast
/
slow
connection) gives you an idea of what to expect from the live show. Comparisons between Adele and a banshee are frequent (and meant in a good way), and the dark enchantment of her presence is captured well in the video.
Other stand-out songs so far include album opener,
Medicine
, which combines that perfectpop Blondie sound with a sexy flamenco feel, and
Taste The Last Girl
has a great rhythm and a chorus that will drive fear through any man who ever even thought about loving someone else but Adele Bethel. Every song makes me want to pick up a tambourine and scream along at the top of my voice in my most grizzly Glaswegian accent, glaring straight into the eyes of anyone who dared look my way. Whether Sons and Daughters break into the mainstream or not depends very much on this album and this summer. If enough people here
Dance Me In
and their curiosity takes them to a festival set or one of their
upcoming gigs
, then it really could happen for them. And they deserve it.
Dance Me In
is released on 23rd May on CD and 2 x 7".
The Repulsion Box
follows on 6th June. There is an extensive UK tour throughout June. Take a chance and dance me in.