Tuesday, December 30, 2008
Return of Black Box Recorder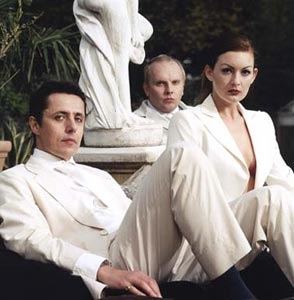 Black Box Recorder
make a long awaited and slightly unexpected return to the stage in February 2009, with a two night (so far!) stay at the delightful Luminaire in Kilburn. There's no mention of a new album, so I think this is just a special treat for anyone who is still listening to their aloof, icy, misanthropic and very funny music. The first night is sold out already, so get your tickets for night two quickly. You've got to dress smart for the gig, too.
Buy tickets here!
Monday, December 29, 2008
Albums of the year 2008
2008 was a supreme year for music. After a couple of uninspiring years, London is again home to exciting young blood in the shape of its own budding anti-folk scene. The movement is mirrored over in Scandinavia with a similar rejection of meat'n'two veg, rockin' with yo' cock out, bland and tired indie-rock. I welcome the soulful return of acoustic guitars, violins, accordions, sensitive poets and their charming poetry. Following are my top 10 albums released in 2008:
1. Laura Marling – Alas, I Cannot Swim
Laura Marling's debut album showcases a talent and outlook more mature than her tender age. Each song is a delicately crafted wonder, and the album flows perfectly from song to song with very simple, traditional and organic instrumentation and minimal production. This album has so much soul.
2. Shout Out Louds – Our Ill Wills
This is perfect bittersweet pop music, with lovely melodies, powerful choruses and folky charm. Impossible, clocking in at an unprecedented 7 minutes, is a soaring epic masterpiece. What is in the Swedish water? I want some of it.
3. Late of the Pier – Fantasy Black Channel
However great you thought Bathroom Gurgle was, nothing could have prepared you for this bombastic, force of an album. These ain't just 12 great spiky, punky dance songs; this is a fully integrated journey that hits you like a 12 tonne truck, aided undoubtedly by Erol Alkan's knob-twiddling whizzery.
4. Ladyhawke – Ladyhawke
Dramatic, sexy, dark, hypnotic is this excellent of debuts from New Zealand's Ladyhawke. This album guises murky emotions and bittersweet reflections amid epic (almost stadium) rock/pop tunes, all of which could be mega hits if they were released to radio.
5. Johnny Flynn and the Sussex Wit – A Larum
Johnny Flynn's debut is a handsome, soulful jaunt, with plenty of foot-stomping and hip-slapping opportunities. The lyrics unravel poetically with the rich, organic folk playing and bittersweet chord changes. Characters are cast, scenes are set, stories are told; you can't help but fall in love with the old world charm that A Larum exudes.
6. The Faint – Fasciinatiion
A fine fifth album from Omaha, Nebraska's finest sons, The Faint have still got it when it comes to making slinky, subversive electro. The mood is still critical political, and recent world events and popular trends offer plenty of mileage for these cynics. The music is a successful balance of punchy impact, punk and pop sensibilities and dancefloor readiness.
7. Noah and the Whale – Peaceful The World Lays Me Down
Noah and the Whale are purveyors of pure pop music and this joyous album is a celebration of life and love, the highs, the lows and the fleetingness and impossibility of it all. This sensitive, earnest and wistful debut will charm your pants off.
8. Sons and Daughters – This Gift
This stomping, sweeping and pacey third album from Sons and Daughters is full of strutting, cutting and pouting guitar- and basslines. The band wear their inspiration on their sleeves, with aural reference to sixties girl groups, rockabilly and Morrissey. The combination of dark posturing and timeless harmonies makes this an intriguing and mesmerising album.
9. The Long Blondes – Couples
Their second and final album saw The Long Blondes (RIP) put a brave spin on their kitchen-sink-drama business, with this even more dramatic, radical and retro posturing. The subjects may have occasionally been too avant-garde and ironic for the mainstream listener, but for pop pickers on their wavelength, this is an icy and exotic treat.
10. Emiliana Torrini – Me and Armini
Flitting between charmingly delicate and organically funky, this full-bodied and earthy offering casts Ms Torrini as both the candlelit chanteuse and jive-dancing pixie. The album is free-spirited, full of freely pouring emotion, and showcases a definite leaning towards pop stardom.
Also highly commended:
Lykke Li, Bon Iver, Wolf Parade, The Wave Pictures, Vampire Weekend, TV on the Radio...
Hotly anticipated albums for 2009
: Mumford and Sons, Jay Jay Pistolet, Peggy Sue and the Pirates, Yeah Yeah Yeahs, No Doubt, Peter Bjorn and John, and many more.
Happy New Year when it comes!
Sunday, August 31, 2008
Get Seduced
I suppose it's possible to call
The Faint
cult legends. Forming in 1997, they've just released five albums, have a rabid fanbase, play blistering and unique live shows and have made no impact on the mainstream. They are one of my favourite bands and have been for longer than almost any other band, excluding
No Doubt
, of course. I first saw them playing live with
Radio 4
at the Barfly in Glasgow in 2002. It was my first over 18 gig and I was absolutely terrified of getting turned away and having to go back to Edinburgh, unaccomplished.
Six years on The Faint are back with their fifth album
Fasciinatiion
. The Faint (or not so) quietly pioneered modern electro punk or indietronica or nu wave or no wave or electroclash or nu rave or indie rave or whatever you want to call it. Their 1999 album
Blank Wave Arcade
meshed the synthetic sounds of new wave with the energy of punk and the beats of dance music, and since then they've made some of the most dark and exhilerating music that's passed through my ears.
Fasciinatiion
sees them building on their blueprints, pushing their sound forward with even more advanced and experimental production, all the while showcasing pop songs of the highest vintage.
They played at Cargo in London on Friday night and it was WILD. Lately everything has been a bit folky on the gig front and generally very calm and civilised. The Faint were an injection of life, sex, danger. With strobe lighting pointing upwards, video projections, rrrrrrrraw energy and, oh yeah, amazing songs, they tore apart the sold out venue. Lead singer Todd Fink (he married
Orenda Fink
and took her surname - aw!) was all over the stage, wearing a white lab coat and goggles, while the rest of the band hammered on synths, spat out penetrating basslines and popped their bodies to the incendiary beats. By the end of the gig I was wet from the whole room's sweat. I'll be sure to see them when they're back in November. Meanwhile, check their
tour dates
and book yourself a date with the night when they hit your town.
Monday, August 25, 2008
Not too late at the pier
I cannot get enough of
Late of the Pier
's debut album,
Fantasy Black Channel
. It is causing me to body-pop involuntarily every time I have it on. The sound is epic, immense, intense.
TRASH
hero (and fellow Holloway resident!)
Erol Alkan
produced the album and I think it is his genius touch which has made it the truckload of might that it is. Each belting glam-tinged anthem flows effortlessly into the next, leaving the listener gasping for breath by the time it closes with
Bathroom Gurgle
, which requires a whole new set of lungs. Phew...
I recommend that you buy this album NOW. You can hear lots of songs over at the LOTP
MySpace
page.
Wednesday, August 20, 2008
Mercury nominated
I've written so many times now about
Laura Marling
that I don't think there's much left to say, other than I've seen her a couple more times (at St James Picadilly - above, and Field Day festival - below) and she's so still so understatedly, jaw-droppingly amazing. I can only encourage you to buy her album,
Alas, I Cannot Swim
.
In July I was asked by the
Evening Standard
to comment on the Mercury Music Prize nominations, and I told Londoners that Laura Marling was the best. I think it was published about three weeks ago - I never saw it in the paper, but a friend's mum did. Here's what I said:
The Mercury Music Prize nominations never cease to stir up a whirlwind of excitement, discovery and controversy. 'Elitist! Populist! Tokenist! Obvious!' shout the public, but most music fans have bought a nominated CD on the credibility of the nomination alone. This year will be no different, with such a solid list of nominees.
If the Klaxons' win last year was a nod to an electronic future, this year's nominations represent the distinctly earthy, organic character of some of Britain's best new music. The Last Shadow Puppets and Elbow's grandiose offerings are laden with sweeping strings, Plant and Kraus' duets are heavily inspired by American folk, while Rachel Unthank's album is classic British folk at its haunting best. Even Radiohead have switched off their synths!
Laura Marling's Alas, I Cannot Swim is my favourite of the bunch. It is earnest, brooding, understated and flows perfectly as an entire work. Laura has accidentally become the figurehead of a young London-based folk scene, and albums from such peers as Johnny Flynn and the Wave Pictures deserve to be on this esteemed list. I wouldn't be surprised if her friends Noah and the Whale, Slow Club and Mumford and Sons populate next year's nominees.
Monday, August 18, 2008
Adriatic waves to Wave Pictures
It's been too long again without an update. I am resigned to updating in flurries, and hope that's ok for you. I've been listening to lots of new music recently and going to lots of gigs, as well as settling in at my new job. I travelled around Montenegro and Croatia for a couple of weeks earlier in the summer and loved the Balkan and Gypsy Folk music. I will do some more research and discovery and share some gems with you in not too long.
One of the best bands to fall under my radar in the last few months is
The Wave Pictures
. They are three boys who make lo-fi music with poetic, intelligent lyrics. Singer and guitarist Dave Tattershall is an incredibly profilic songwriter, so profilfic, in fact, that the Wave Pictures just released a six-song EP a mere 4 months after they released a full length album on
Moshi Moshi
.
The music follows simple structures, with basic instrumentation; the production is minimal and bass, drums and guitar have an equal prominence live and on record. The sound is sometimes urgent, sometimes melancholic, sometimes playful. David Tattersall's expressive and powerful voice, with his soft Northern accent and his witty and sometimes strange lyrics take full prominence, give or take the occasional frantic guitar solo.
I first caught them live supporting
Laura Marling
at St James Picadilly, a vast church in the West End. The band had never before played in such grand surroundings and David sung most of the set unamped to make the most of the natural acoustics. Punters in the rear pews could hear the vocals clearly. Their stage manner was totally unassuming and they seemed a tad fazed by the size and granduer of the hall, but the crowd were won over by their original lyrics and raw, honest sound.
I fully recommend that you skip over to
their MySpace
to listen to some of their most bestest songs.
Tuesday, June 03, 2008
You Crawled Out Of The Sea
A year ago I was in New York, living in a mouse-infested room in Greenpoint, walking wide-eyed through almost every neighbourhood in the big apple, eating delicious food from all over the world, going to great gigs, plodding through galleries, museums, shops. I saw
The Long Blondes
at the Luna Lounge in Brooklyn and supporting them was
Nicole Atkins and the Sea
. I was bowled over by her incredible, powerful voice and the sweeping orchestration of her material. I was so enamoured that I forgot to take a single picture and so the experience went undocumented.
Luckily, hints were picked up on and her album
Neptune City
found its way to me as a Christmas present and then I found out she and her band would be coming to the Soho Revue bar at the end of April. The small venue was only at a quarter of its capacity and the majority of folks were crowded around by the the bar. This meant much of Ms Atkins' grandiose sound, energetic stage show and warm charisma were wasted on the immediate open space in front of the stage. She soldiered on and gave a great performance more suited to a big theatre than these intimate settings. By the time the band played the rousing
Brooklyn's On Fire
, less self-conscious people made their way to the floor for some fist raising.
I left happy, but frustrated and embarassed by my fellow Londoners. I've noticed increasingly that punters have a lack of respect for artists and have been to several gigs recently where people seem to be happier to stand by the bar and chat (loudly!) than give the band they've paid (or been guestlisted) to see. Perhaps going to gigs has become so
de rigeur
for people that it's just like to a bar and the live musical is incidental, if not annoying. Nicole said she would be back in June, and judging by the fact that she's already had a full page interview in a national paper and a slot at the uber-corporate O2 Wireless festival, so hopefully some major label muscle will help ensure she gets a more enthusiastic welcome next time.