Monday, August 02, 2004
Show me the 'light!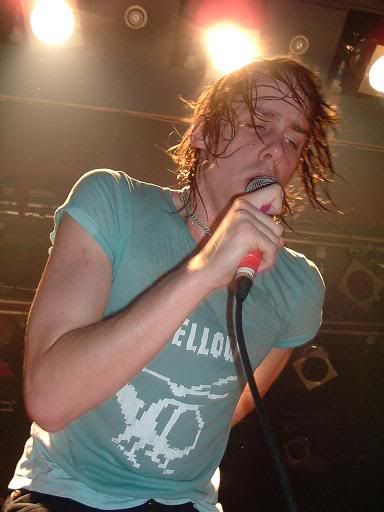 Razorlight
are one of the best new British bands. Fact. Their recent (and top 3) 'Up All Night" album is the indie album of the summer. Abstractboy wasn't sure whether
the Killers
(see earlier rave) album would steal this position, but on acquiring an advance copy of the Razorlight album a month prior to its release (and thank God for that, as he would otherwise have had to wait til the end of the trip!), Abstractboy knew that "Up All Night" had that raw and undeniable soul that it was becoming more and more apparent that the Killers lacked. Jonny Borrell's voice is gravely at times, world-wise, travelled, expressive, and most importantly, thickly London. The songs, particularly album highlight "Don't go back to Dalston", remind Abstractboy of London - why he loves it, why it is still exciting to live here. Live Borrel improvises with lyrics about Abstractboy's chief bus route – the infamously packed 29 – talks about the areas which he sees daily. It just feels so relevant. But there is an overwhelming pop (of the perfect variety) sensibility that is apparent throughout. Razorlight know a good melody, a good chorus, a good vocal arrangement, even if it most likely isn't written to a formula or by Cathy Dennis and
Karen Poole
. And that is perhaps what has made "Up All Night" one of the best albums this year.
It's really quite hard to fathom how big they have actually become. Abstractboy remembers seeing Razorlight at
Rough Trade
with 25 other people in January, and now they have sold out the Astoria twice over and are booked in at 4500 capacity Brixton Academy. It will be interesting to see if the energy that their earlier gigs for which they were famed is as strong in the bigger venues. But 2004 has been a big year for indie bands breaking through. The Killers,
Hope of the States
,
Franz Ferdinand
, Razorlight,
Delays
and
Keane
have all had amazing success so far- most of whom started off the year playing 100 Club, the Camden Barfly or ULU and are selling out Brixton Academy three times over (see Keane) or are becoming one of the most successful British bands in America (see Franz Ferdinand). A mixture of factors seem to have caused this. Firstly, record companies seem more prepared to invest large sums in publicising an up and coming indie band. Take Franz Ferdinand for example – every street corner in Britain had an advert for "Take Me Out", the singles were on sale at 99p in the first week – there was no way of avoiding them. The Killers had similarly large sums spent on them – huge grassroots campaigns and media coverage from Attitude to CD:UK to MetalHammer to Jools Holland to Smash Hits.
But it may be that the bands that are making it big now are actually getting it right – they are making genuinely good music that is soulful, honest, genuine, but not contrived or manufactured in the hit-factories that dominated late nineties and early noughties charts. It doesn't make Abstractboy cringe to see these bands get big and attract a wider crowd like it does when he sees the fat 35 year old blonde slag at the club dancing to
the Darkness
and thinking she is a rock chick extraordinaire because she owns "Permission to Land" and bought tickets off eBay to see them at the Apollo for £80 a head. It's encouraging for the future of the indie scene in Britain to see such fresh talent that has an obvious durability really impacting on the musical landscape of 2004. Let us hope that the next batch of new up-and-coming indie bands (see
the Departure
or
New Rhodes
) will receive the same support and achieve a similarly deserved success as the cream of 2004 so far.
0 Comments: