Monday, July 05, 2004
Do you feel the fever like I do?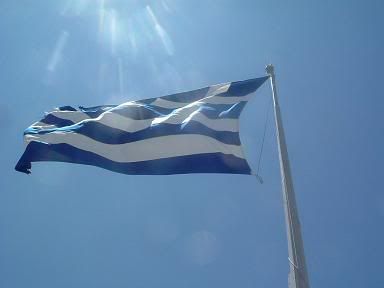 Abstractboy never had any intention of sportblogging. Or blogging about football at all, ever, ever, ever. But last night, the final of Euro 2004, he felt the fever. Being a quarter portuguese (and a quarter brazillian and a half scawttish) he was obviously going to be supporting the hosts, Portugal, in the final. ben and Abstractboy found themselves in a hot and sweaty, GREEK FILLED, Budapest sports bar catching the latter half of the game. It was so traumatic. Portugal had so much more posession, they were undeniably the fitter team (such nice tans and eyebrows) and had so many shots at goal. When it reached the last muinute of injury time and Portugal were clearly not going to score that goal and the camera focused on Figo's teary face, Abstractboy too shedded a tear. The emotion was so high, the Portuguese had put so much into it, they were definetly the better team.
Oh well, it's how the game goes (not that he actually has any idea how to play). And it's good that Greece won, because, frankly, the Olymics...will it/won't it be ready etc? And also, yorkpete had office sweepstakes on Greece to win. So hopefully he should have a bit of extra cash. Which is good, obviously.
0 Comments: