Thursday, July 08, 2004
Budapest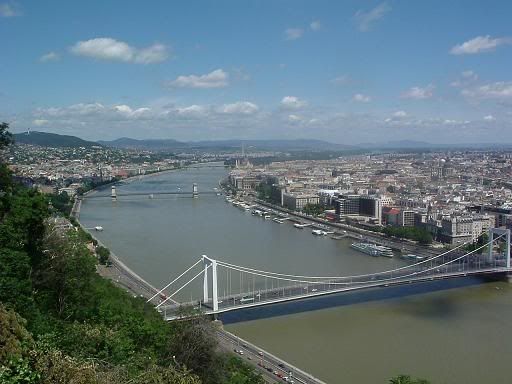 Often described as the Paris of the East (Europe, presumably), Budapest carried the expectations of Art Nouveau architecture and 18th-19th century granduer. In that respect it didn't disappoint. Also similar to Paris, this is often perceived as a facade to a slightly dirtier and more troubled city. As mentioned previously, Budapest suffers from a huge homelessness problem. By 9pm most doorways on main roads are occupied by as many as four vagrants who have been on the streets longer than the many Burger Kings advertised in downtown Budapest. It wouldn't be fair to say that the desparately visible poverty marred the experience but it certainly affected it.
When you are in a tourist bubble, Budapest is lovely. It was originally two towns - Buda and Pest, with the seemingly endless Danube separating the two. There are many forrested hills, immensely ornate buildings, castles, churches and many many bridges. There is definitely enough to keep the coachloads of Japanese tourists busy. Abstractboy has decided that their anthem is "Tick" by Yeah Yeah Yeahs - tick tick tick tick their checklist tourism. It's manic. One of the most enjoyable experiences was a visit to one of the famous Hungarian thermal bath houses. Abstractboy and ben bathed in many different baths - hot onesm cold ones, very hot ones, ones with currents, ones styled like Roman baths with domed roofs. It was nice to feel clean and relaxed.
Abstractboy also made sure to try Hungarian traditional dish, goulash. It was very nice, if a little sloppy. But in all honesty he prefers his mother's interpretation of it, but shhh! Hungarian Tokaj wine was also a pleasure to drink.
0 Comments: