Saturday, July 03, 2004
Bratislava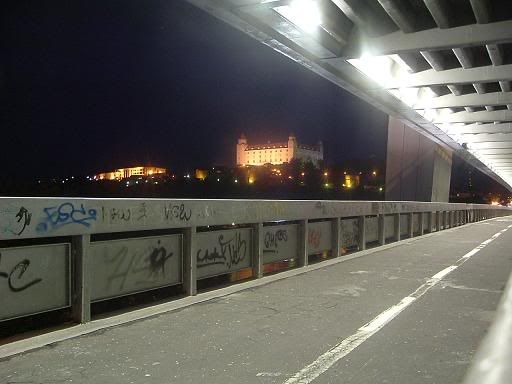 Abstractboy and ben's short stay in Bratislava was one of the most enjoyable yet. For starters, they managed to avoid Australian backpackers, which is becoming an increasingly important thing to do. And their hostel was a palace of kitsch - coloured glass bricks, a shower that runs on to a toilet with a clear plastic seat (with barbed wire in it) and tiger and zebra print quilt covers. Abstractboy and ben were also lucky enough to meet the delightful Calum, a 1st year Harvard student who was once at Hutchie's in Glasgow and was on his 6th week in Slovakia researching for the updated edition of the Let's Go guide to Eastern Europe. Which was very nice.
Bratislava is a city divided in two by the Danube. On the north side is the beautiful Old Town - part Viennesse granduer, part medieval fortress town. On the south are the grey grey grey residential tower blocks and factories. Having spent most of the afternoon navigating the narrow passages of the old town, it seemed like an interesting idea to crossthe grafitti drenched bridge to The Other Side. Calum, ben and Abstractboy hopped over railway lines, darted across three lane motorways and avoided rabid dogs before finding a very Slovakian pub in which to find authenticity. And boy did they find authenticity. There were stuffed foxes, birds, fish, boars, grumpy bar staff (sadly, not stuffed) and 3öp a pint beer. after that experience, they re-crossed the river to try out Slovakia,s Only Gay Club (tm), which was needing re-reviewed for the guide book. The contrast was stark. Blue neon lights, 75p a pint, heavy redbull endorsement and a clientelle wearing TopShop's 2000 range . The barstaff were similarly unwelcoming, however. The whole experience was most enjoyable though - ancing to Slovakian Steps rip offs, Tatu, That Fucking O-Zone Song, Cher, Fragma, A1, Madhouse and so on. It was one of those GAP moments, although Abstractboy believes this may have been somewhat alcohol enduced.
Abstractboy would like to thank Calum for making Bratislava all the more enjoyable and insists that the offer of a bed in London stands as long as there are beds in London.
Bratislava also saw the death of Abstractboy's long suffering umbrella. In a storm that tore trees down literally, the umbrella was ripped right out of his hands. How sad.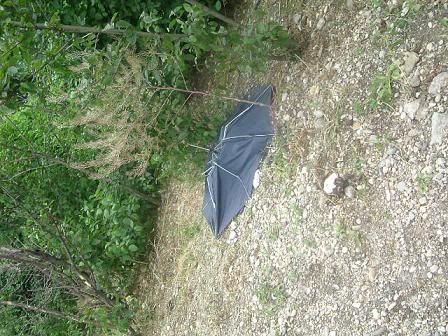 Umbrella the next morning, 60 metres away from where it was brutally killed
0 Comments: