Thursday, July 01, 2004
Munich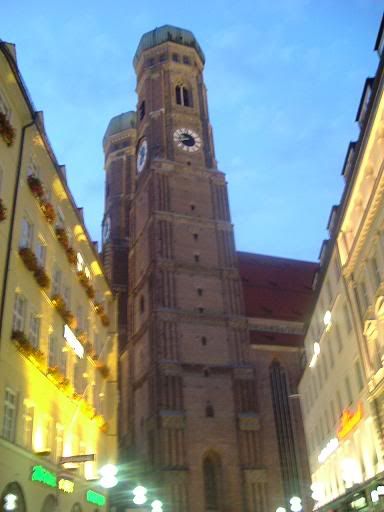 Having never visited southern Germany before, Abstractboy's preconceptions of Bavaria were laced with the supposed primitive nature of the Bavarians - beer swilling and backwardly traditional. However, Munich is a very modern, cosmopolitan and multi-cultural city, whilte still maintaining an old and beautiful town centre. It has surprisingly been the most tourist-filled city so far, dominated by Aussie and American backpackers and wealthy japanese check-list tourists.
The Olympic Stadium was in stark contrast to the one in Berlin - a sweeping and 70s utopianist/space age glass jungle, and Munich's parks were filled with strangers playing sports with eachother. It was an altogether friendly and welcoming place and residents seemeed not to resent backpackers like in other places.
Abstractboy, as ever, made a concerted effort to try local things. Having already consumed a life's worth of
wurst
in the last 2 weeks, it left only the traditional Bavarian beerhall to try for authenticity. It was a whole other world - Absstractboy had never seen a glass so big, let alone had to drink out of one. But a litre of beer was a perfect way of spending less time in the crappest (and most expensive!) hostel ever. There was a band and red-faced cheering and pretzels, but most importantly, there were locals, which is the sure sign to an outsider that a place is actually ok. The bad did start to play that Hermes House Band song, but we can overlook that!
0 Comments: