Friday, June 25, 2004
I love Berlin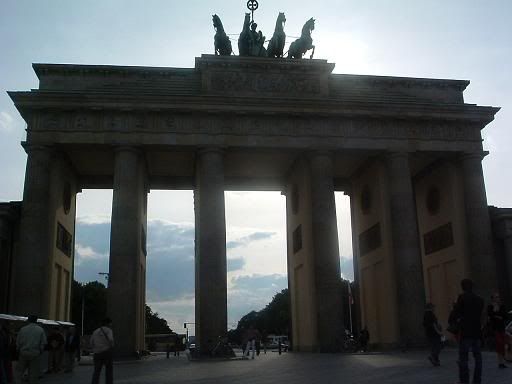 Berlin was amazing. Usually Abstractboy would write an entry on the train before typing it up here, but this did not happen on the Berlin - Dusseldorf ICE train, so this is all a little unthoughtout, if you will.
Abstractboy and co had the preconception that Berlin was going to be a city with electroclash spilling out of every Imisshalle, out of every DDR block - they were hoping to see Peaches strolling around Prenzlaur Berg, share a Currywurst with Miss Kitten, go to the Film Museum with Chicks on Speed. However, it transpired fairly quickly that Berlin was a city in which one would have to
really
research to find out where the cool place to be is, as it seems to change more often than Peaches changes costumes in her stage show! In the clubbin' it part of their stay, the Abstractboy posse suffered from bad fortune - the football preoccupied most of the would-be clubbers, and miss-listings told them to turn up for clubs 2 hours later than they ought to have. Essentially, one needs to be in the know to make the most of Berlin's nightlife, although the football was a huge factor. And they did manage to consume a lot of rather nice cocktails. Which is good, of course!
Aside from that, Berlin did not disappoint in any way. Five nights and six days is really not enough time to do Berlin any justice, which really speaks for how much there is to do. You could spend that long just walking along the endless wide
Allees
at the Stalinist-esque architecture (Karl Marx Allee), or taking trips far out of town to see some more unusual buildings. The fantastic and fit
yorkpete
who joined Ben and Abstractboy in Berlin takes a great interest in Modernist architecture and made sure a visit to De Cabousier's(sp?etc) was payed, which was very interesting. And then there are all the stunning post-reunification buildings everywhere- there is just such a mixture of different styles, which is not too surprising considering Berlin´s very unique history.
Berlin also is home to some of the best street/flea markets ever. The Strasse des 27s Junis presented the opportunity for bartering and nice clothes. Both of which were indulged in. And there are a lot of very good second hand clothes boutiques. And lots of cake to be eaten...blah blah blah, Berlin is great. Abstractboy now has an even stronger desire than before to go there for his year abroad and will do pretty much anything to be sure of getting in. You have been warned.
0 Comments: